Why should domains be paired with services?
Posted October 22, 2016
Registering a domain name only gives you an exclusive right to use that specific address. Without any service attached to it, you won't be able to use it to host your website, receive and send emails, or map it to 3rd-party sites like Blogspot.com or Tumblr.com.
With this reason, Hanep Hosting does not accept domain-only orders without any service subscription. You may either avail of Web Hosting or Domain Forwarding first, or together with your domain order.
Domain-only orders are accepted only if they will be used as add-on domains to your existing web hosting subscription.
On the other hand, if you don't need web hosting because you already have an existing Tumblr, Blogspot, or Wordpress.com service, you still require DNS Hosting in order to set where your domain should exactly point to. That's why Hanep Hosting provides Domain Forwarding service to cater to this need.
Domain Forwarding will still give you access to a cPanel account, but instead of a full-featured cPanel system, you will only be given access to Advanced Zone Editor along with other email tools.
As an example, at Tumblr.com, you're required to create two DNS records (A & CNAME) to use custom domains for your blog (which you should retrieve from https://www.tumblr.com/docs/en/blog_management#customdomain). The DNS records provided by Tumblr are what you will be configuring in your Zone Editor.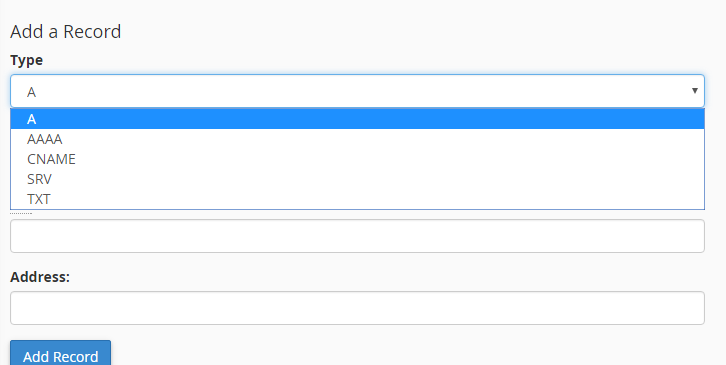 For any other questions or clarifications, click here.
Related articles
---
Terms of Service (Customer Agreement)
How to pay online for your digital goods?
How to secure my website and emails?
What is an addon domain and how to use it?
How to clear your DNS cache?
Terms of Service (Privacy Policies)
Unmetered Disk Space & Bandwidth (Resource Usage Policies)
CPU, Disk I/O and Memory (Resource Usage Policies)
Terms of Service (Warranties and Liabilities)
Backups (Resource Usage Policies)
How to check my email using an email client like Outlook or Thunderbird?
Emails (Resource Usage Policies)
How to fix Google malware warning?
How to fix 500 Internal Server Error?
How to transfer my domain to Hanep Hosting?

« Go back
Do not reproduce or distribute articles without proper permission or attribution (link to Hanep Hosting).

Powered by Help Desk Software HESK, brought to you by SysAid