How to backup & restore my databases?
Posted December 1, 2015
In this tutorial, you will be using phpMyAdmin to generate a SQL dump for your databases. A dump is a downloadable text file containing queries which you may use later on to restore your database. This is good for taking backups of your databases.
Let's get started by backing up your database.
1. First, open your database table using phpMyAdmin.
2. At the menu bar from the top, select Export.

3. Select a format. The default SQL is what we need. Press Go to proceed.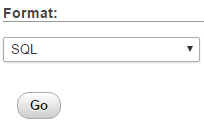 4. The system will generate a download file with a .sql file extension. Save this to your computer.
To restore your database from a SQL dump file, follow these steps.
1. Click Import from the top menu bar while still in phpMyAdmin.

2. Use the file browser to locate your .sql file.

3. Press Go. This may take a while specially if you have a large database.
4. Verify your tables. You're done!
Related articles
---
Terms of Service (Customer Agreement)
How to pay online for your digital goods?
How to secure my website and emails?
How to clear your DNS cache?
How to check my email using an email client like Outlook or Thunderbird?
CPU, Disk I/O and Memory (Resource Usage Policies)
Unmetered Disk Space & Bandwidth (Resource Usage Policies)
What is an addon domain and how to use it?
Backups (Resource Usage Policies)
How to create a database?
How to upload files using FTP?
How to fix 500 Internal Server Error?
How to backup my files using FTP?
How to fix Google malware warning?
Terms of Service (Privacy Policies)

« Go back
Do not reproduce or distribute articles without proper permission or attribution (link to Hanep Hosting).

Powered by Help Desk Software HESK, brought to you by SysAid