How to upload my files in cPanel?
Posted December 1, 2015
cPanel has a built-in File Manager which makes uploading, removing, creating and modifying files easier.
To get started, follow these steps:
1. Log into your cPanel account.
2. Click the File Manager icon.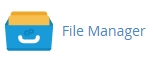 3. At the File Manager page, double click on the public_html directory.

Note:
All of your files should be uploaded inside public_html. This is the only directory that is publicly viewable.
Also, don't remove any files or directories outside of your public_html directory by default.
Those are system files. Unless you know what you're doing, don't touch them.
Otherwise, you'll be penalized a service fee for the restoration of your account, if problems occur.
4. To upload a file, click the Upload icon.

5. Press the Select button to open the file browser, or simply drag and drop files from your computer.
6. You're done!
Extra Tip:
To create directories or folders inside public_html, simply click the Folder icon.

Related articles
---
Terms of Service (Customer Agreement)
How to pay online for your digital goods?
How to clear your DNS cache?
How to secure my website and emails?
How to check my email using an email client like Outlook or Thunderbird?
Unmetered Disk Space & Bandwidth (Resource Usage Policies)
CPU, Disk I/O and Memory (Resource Usage Policies)
How to upload files using FTP?
What is an addon domain and how to use it?
How to fix 500 Internal Server Error?
File Limits (Resource Usage Policies)
How to create a database?
How to backup & restore my databases?
Terms of Service (Privacy Policies)
How to fix Google malware warning?

« Go back
Do not reproduce or distribute articles without proper permission or attribution (link to Hanep Hosting).

Powered by Help Desk Software HESK, brought to you by SysAid